Hello, thank you for dropping in and thank you for your comments on my last post. You lot are lovely. The weather here is cold, wet, dark and gloomy so I think it's time to cosy up and bring you my promised reading post. If you were here last year you might remember that in 2017 my reading mojo almost completely disappeared so at the beginning of last year I set myself a reading target of twelve books over twelve months and I made myself document my progress here as extra motivation. By the end of December I had read twenty-three books and made great inroads into my To Be Read pile shelf bookcase. I have set up a separate page which lists those twenty-three books, partly in case you would like to have a peep but really so that I can look at them myself, especially as more than half of them have now left the building.
This year I decided to keep the target at twelve books but, now that my reading muscles are much fitter, the difference is that those twelve books will all be long ones. I expect you know the sort of thing I mean, the broad spines which stare at you from the shelf, dominating it with their size and which you put off reading if you are out of condition because the distance seems daunting. At least, it did to me. However, by the end of last year I felt ready to take on the challenge: twelve books, each one at least 450 pages long, which meant that this year, I have to keep a log of the number of pages in each book as well as its title and author. So, here is the pile of books I have read so far this year. -
Thirteen already! However, I am sure that you will have noticed that three of these do not meet the requisite criteria, being much shorter than 450 pages. During this marathon I realised that sometimes, I need the refreshment of a short book, and as reading fiction is supposed to be a pleasure, I decided to meet that need whenever necessary - as long as I read twelve longer books over the course of the year, the target will still be met. So with two more of those to read over the next six months, there should be plenty of room for other books, too.
My heart sank on the day, more than two years ago, when a colleague brought me a bag containing seven long books by Susan Howatch, simply because it's difficult to find room for seven new, thick books in a teeny, tiny house. "I noticed you were reading one of hers a couple of months ago," she said. She was so kind and thoughtful that I hadn't the heart to correct her and say that the book she had noticed was actually by Elizabeth Jane Howard! This is the Starbridge series of novels which explores different attitudes and schools of thought within the Church of England between 1937 and 1968. Each novel stands alone, although the characters recur throughout the series. I felt that I ought to read them but after the first one I was hooked and carried on because I really wanted to. They are serious, and seriously good. These four are, in order, Glittering Images, Glamorous Powers, Ultimate Prizes and Scandalous Risks. There are two more which I haven't read yet (and that's not because I can't find them, no, it's really, really not, honestly, although it might be, and I really did need a break from mid-twentieth century Anglicanism) but The Wonder Worker takes the action to London and moves some of the same characters into the 1980s. I didn't like this one so much, it began well but became a bit too soapy for me and I found the ending unbelievable.
The Lee Child thrillers about Jack Reacher were passed on to me with recommendation and one of them, Killing Floor, was the first to be published. Although they are not really my sort of thing and the short sentence structure annoyed me, I found them very difficult to put down. He's obviously a good writer, but I don't think I'll read any more.
Rosie Thomas' A Simple Life was also passed on to me and frankly, the story itself was overshadowed by the physical book, which was horrible. It was filthy and stained, the pages felt greasy in my hand and it's leaving my house to be pulped because I should be embarrassed to pass it on to anyone else. The fact that I couldn't let it go before reading it probably says a lot about me!

The Lacuna by Barbara Kingsolver is the longest of these books, measuring up at 670 pages, and won the Orange Prize for Fiction in 2010. The action takes place in Mexico and the USA between 1930 and 1959 and features Frida Kahlo, Diego Rivera, Leon Trotsky and a cameo appearance by Richard Nixon. I enjoyed it very much.
Asking me to name a favourite book is like asking me to name a favourite child, I can't do it, but I think that All The Light We Cannot See by Anthony Doerr is my favourite of all these. When I took it off the shelf I didn't realise that it was largely set in St Malo in 1944, but reading it in the same week as the 75th anniversary of D-Day has given it extra resonance. I found it a beautiful, spellbinding read and heartily recommend it. I am also thanking my bookish sister who bought it for me, as well as The Lacuna, and may be surprised that it's taken me so long to get round to them; all I can say is that they were worth the wait.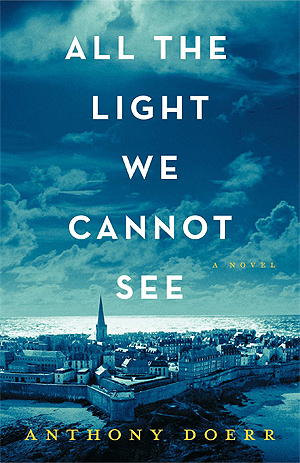 As for the three shorter books, I have written about The Wool-Pack and Cradle on the Waves in previous posts so that just leaves The Testament of Mary by Colm Toibin, in which the aging mother of Jesus looks back on his life and death and which I read at Easter. This is an intense and moving novella, only 104 pages long, and I think that reading it may become part of my Easter tradition.
These books amount to 5,716 pages. I'm a bit stunned by that so I'm going to write it again: I have read five thousand, seven hundred and sixteen pages so far this year. And again: 5,716 pages of prose. I know that some of you read far more quickly than I do but for me, this is a huge total and makes me feel very positive about the whopper which I am building up to later this year. I am so happy to be reading again.